STUDY GUIDES
Get a study guide to answer questions and journal your prayers as you read through some of the best books of Ellen G. White!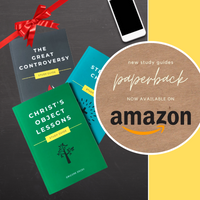 Paperback Study Guides!
Now available to for purchase on Amazon to be shipped directly to your home! Lightweight, full of great content, and affordably priced!
Go to Amazon
The greatest works of Ellen G. White
The Conflict of the Ages series is a great place to start! As well as Ellen White's classic books: Steps to Christ and Christ's Object lessons.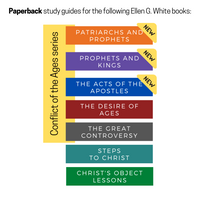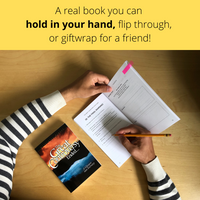 A physical book in your hands
We remember more when we physically write things out. Answering questions, re-reading text, searching pages all helps us remember what we read.
Give a gift that makes a real difference
Our study guides help others read and study books that change lives!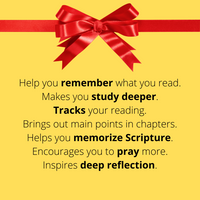 Apparel
Based on the Bible and the Spirit of Prophecy, these clothes serve a 3-fold purpose: keeping you comfy, encouraging you on your walk with Jesus, helping you witness wherever you go!
Bible Verses For cards or posters
QUOTE PRINTABLES
Download beautifully arranged quotes by Ellen G. White to print out as posters, photos, cards, and more!
Screen Backgrounds
Keep your mind encouraged and focussed on things of God whether you're using your computer, tablet, or smartphone.
Testimonials
Thank you so much for the quotes. I have been blessed. My faith has been increased. I have learned more about the Bible and prophecy.

Emerance, Rwanda
Now more than ever, I know that all the writings of the Spirit of Prophecy are indeed inspired by the Holy Spirit and are verified by the Holy Scriptures!!! All the quotes of EGW: the Spirit of Prophecy are helpful for our everyday living, especially in these dangerous times. Thank you for posting Christian quotes and God bless you always!

Orocovis, Puerto Rico
EGW Quotations helps me realize that God loves me. It also helps widen my mind to know that God is more important than just waiting for miracles because He is the Miracle.

- Siska, Indonesia
I have been blessed by many quotes and this inspired me to read Christ's Object Lessons. The first chapter which is about the parable of the sower and seed had a greater impact on me and opened my eyes to remove the stones and pour more living water and light of God to germinate the Word in my heart... I was lost and now I found myself.

Prem, India
The quotes have inspired me to be more intentional in my relationship with God and put my complete trust in Him.

Peige, Kenya
The Ellen G. White quotations have really helped me in times that my faith was shaking. Every time I read through them, they tell us to keep holding onto God. They have really helped me study the Bible more.

Alvan, Russia
I'm very glad I follow @egwquotations page. I was immensely blessed by daily small devotions from Ellen's books. Great is the Lord, who through these devotions was able to show me His greatness and love.

Umulisa Manzi Odile, Rwanda
Ellen G. White Quotations has inspired me to be a better person. Her daily quotations are blessings. I thank God for such an inspired messenger.

Shemeica, Guyana
@egwquotations gives me a righteous lift everyday. I love Sister White and her messages of hope and prophecy.

John Carson, USA